Workshops and In-Service Training
Keep yourself up to date on the latest laws, regulations, and accounting standards. The skilled trainers at Christy White, Inc. will bring into your local educational agency customizable in-service workshop training.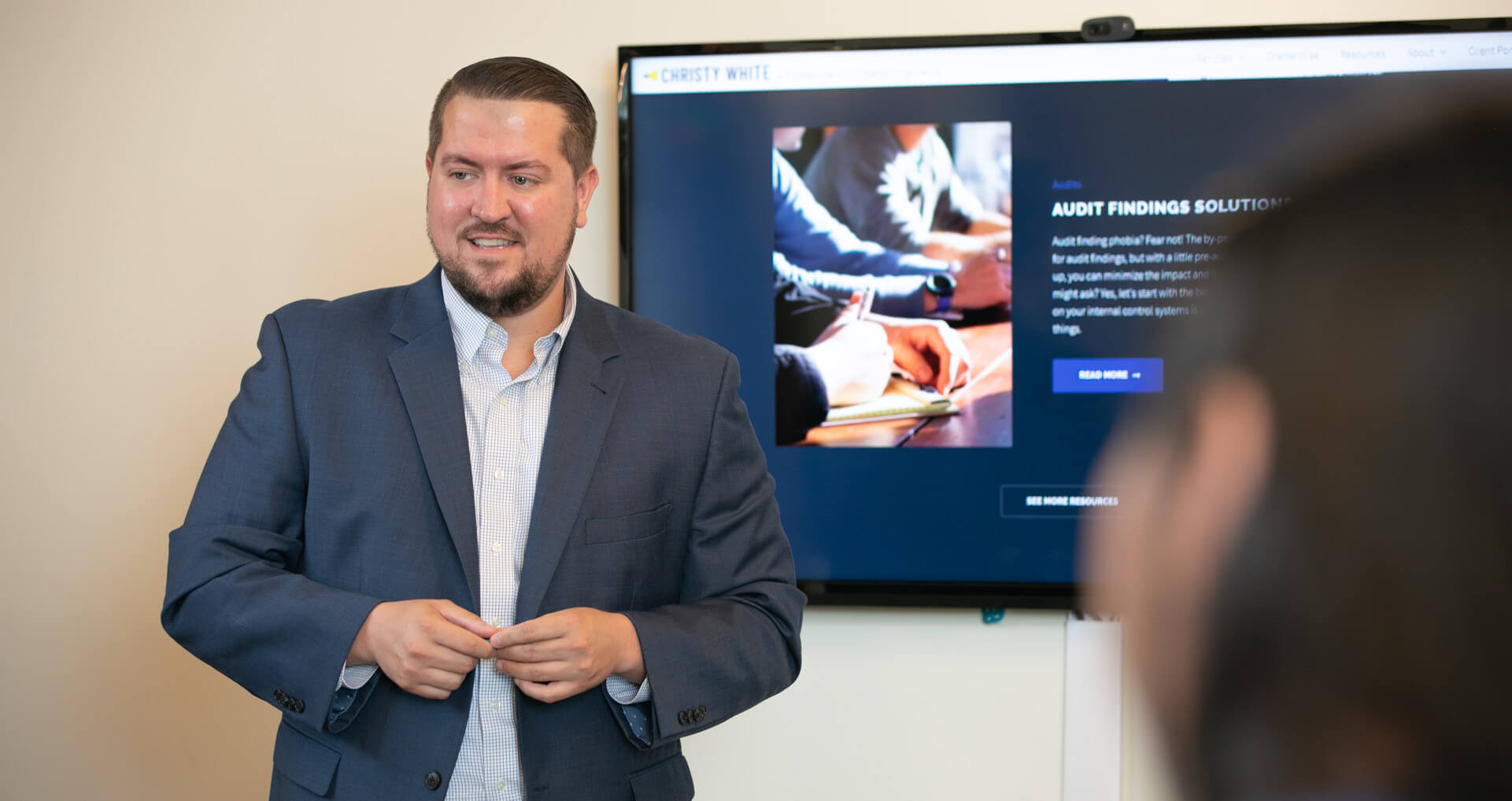 Keep your employees engaged, 87% of millennials say professional development is vital in a job, according to a Forbes magazine article (Sept. 29, 2017).  A lack of growth opportunities is a significant reason for employee turnover.
We provide workshop training on a wide array of accounting and auditing topics. Christy White, known for her exceptionally easy to understand teaching style, personally heads up our workshop offerings assisted by our management team.   Our workshop specializations include:
Governmental Accounting Basic to Advanced – governmental GAAP explained for business managers, accounting staff and, even, your non-accountant managers with an emphasis on new pronouncements, implementation, and school finance 

Attendance Accounting – navigating the myriad of laws and regulations to maximize funding and avoid audit exceptions

Student Body Fund Accounting – do's and don'ts in accounting for fundraising monies and proper expenditure

Booster Club Organization and Accounting – bring in your booster organizations for an evening training session to learn about how to organize and run a booster club

Audit Readiness – audit tips and traps, how to avoid audit findings, what new compliance requirements mean to you, and audit finding resolution

Charter School Finance and Budgeting – our CharterWise back-office accounting team can provide charter boards, administrators and staff with how-to training sessions on charter school funding, budget development, and financial management

Fraud Prevention and Detection – building an effective program, assessing fraud risk, fraud proofing your assets and what to do when fraud is suspected
---
Meet our Instructors
President Christy White is known for her statewide training programs through current and past associations with School Services of California, FCMAT, CASBO, Los Angeles County Office of Education, and the Association of California School Administrators' CBO program. Annually she teaches for the CalCPA Education Foundation's School District Conference.
Audit Partner Michael Ash teaches on a variety of governmental accounting and auditing topics; including Uniform Guidance, GASB updates, and governmental accounting. Participant evaluations for training conducted by Michael positively reflect his easy to understand and approachable communication skills.  Michael teaches annually for the CalCPA Education Foundation's School District Conference.
Audit Partner Heather Daud Rubio has presented on Audit Readiness to CBO's at numerous county office of education business meetings.  She is also an expert on ASB accounting, fraud prevention, and cash management.  Heather is a sought out speaker for CASBO's annual conference.
Audit Partner John Whitehouse is an expert on GASB implementation, accounting, and financial reporting.  He has provided clients with hands-on training on the new pension and other post-employment benefit standards.
---